Tuition Scholarship
2019-11-14
Tuition Scholarship covers full or partial tuition with a duration of one academic year, and applicants can apply annually (competitive).

Eligibility
1. Applicants must be a citizen of a country other than the People's Republic of China, and be in good health.
2. Applicants must be pre-admitted by the target school/department of Tsinghua University.
3. Applicants are not offered with other scholarships, which include tuition waiver for graduate study at Tsinghua University.
4. Other restrictions according to the requirements of the scholarship founding authorities.

Application Procedure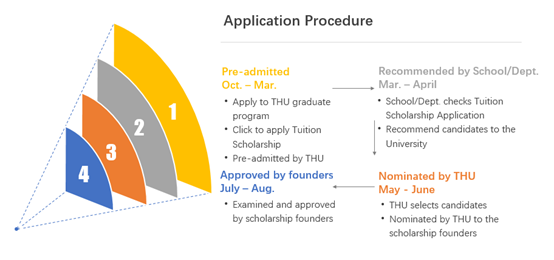 Dos and Donts
1. Applicants may apply for Tuition Scholarship and CGS at the same time. However, CGS cannot be combined with Tuition Scholarship.
2. For prospective students, qualified applicants can apply for Tuition Scholarships through the Tsinghua Application System for Graduate Admission and do not need to fill out extra application forms.
3. Your answers to the scholarship questions on the System will serve as an important basis for scholarship application. Once submitted, no modification shall be made at will. Please make sure you answer truthfully and accurately. Any misrepresentation will disqualify your application for scholarships.
4. Applicants may apply multiple scholarships (e.g. Chinese Government Scholarship, Tuition Scholarship, Siemens China Scholarship) at the same time; however, some scholarships cannot be combined with other scholarships.
5. Don't miss the deadline. Otherwise your application will not be accepted.
Above information are from Tsinghua Admission official website: http://gradadmission.tsinghua.edu.cn/f/yzlxs/yz_lxs_kstzb/view?id=76262