Chinese Government Scholarship (CGS)
2019-11-17
In order to promote the mutual understanding, cooperation and exchanges in various fields between China and other countries, the Chinese government has set up a series of scholarship programs to sponsor international students, teachers and scholars to study and conduct research in Chinese universities.
The China Scholarship Council (CSC) entrusted by the Ministry of Education of the People's Republic of China (MOE), is responsible for the enrollment and the administration of CGS programs.
The Full CGS covers tuition fees, stipend, on-campus accommodation (or accommodation subsidy), and medical insurance. For further information about CGS, please visit the CSC website: http://www.campuschina.org/
Application Channel
The CGS includes a series of subprograms. Each program has its own application channel. Please refer to the CSC website for the application channel of your target CGS program:http://www.campuschina.org/content/details3_74776.html
The application of some CGS programs opens much earlier than that of the CGS-Chinese University Program. For instance, the CGS Bilateral Program usually opens for application from November to April. The application schedule and requirements varies from country to country. Please consult relevant authorities in advance.
Application through Tsinghua University
First of all, please note that the number of candidates can be recommended by Tsinghua University is very limited and application through Tsinghua University is highly competitive.
Eligibility
1. Applicants must be a citizen of a country other than the People's Republic of China, and be in good health.
2. The requirements for applicants' degree and age are that applicants must:
be a bachelor's degree holder and no more than 35 when applying for the master's programs;
be a master's degree holder and no more than 40 when applying for the doctoral programs.
3. Applicants must have been pre-admitted by the target school/department of Tsinghua University.
4. Applicants are not offered with other scholarships for graduate study at Tsinghua University.
5. Other restrictions according to the CSC requirement of the year.
Application Procedure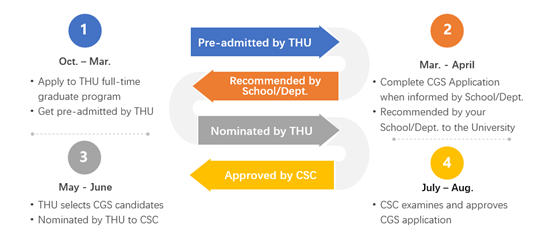 Dos and Donts
1. Scholarship Column in the Tsinghua Application System for Graduate Admission
- Website: http://gradadmission.tsinghua.edu.cn/f/login
- Your response to scholarship questions in the System will serve as an important basis for scholarship application. Once submitted, no modification shall be made at will. Please make sure you answer truthfully and accurately. Any misrepresentation will disqualify your application for scholarships.
2. CGS Online Application in the CSC System
- CGS Online Application: https://studyinchina.csc.edu.cn/#/login
- Applicants should complete the CGS online application on the CSC website after being informed (usually from March to May) by your target school/department ASAP.
- Applicants who are not recommended by the school/department will not be considered by the University.
- Don't miss the deadline. Otherwise your application will not be accepted.
3. Application Documents
- Make sure your CGS application meet the requirements of CSC. Any invalid, incorrect, inauthentic documents/information will disqualify your scholarship application.
For the CSC requirements, please refer to: http://www.campuschina.org/content/details3_74779.html
- CGS should be applied online. Applicants do not need to post any documents to Tsinghua University.
4. CGS Management Regulations
The CGS recipient should strictly follow the scholarship management regulations. Reference:
Chinese Government Scholarship Handbook for Full-time International Graduate Students (The handbook can be downloaded at http://gradadmission.tsinghua.edu.cn/f/yzlxs/yz_lxs_kstzb/view?id=76262
Above information are from Tsinghua Admission official website: http://gradadmission.tsinghua.edu.cn/f/login